Originals
"Boulevard Malesherbes" is one of a number of recent new paintings. Take a look at recent original works here...
Recent Event Art
Jay Koka has been commissioned to produce poster and event art for a wide range of international events. Take a look...
Art of Travel
World-wide travel has long been featured in Jay Koka's original works. Iconic and exotic locations feature prominently...

(click to enlarge)
"Queen and John"
For many years the tallest free-standing structure in the world, the iconic CN Tower forms the focal point in this view of downtown Toronto. Featured in the work: the hot McLaren Senna and a McLaren 600LT. The Senna, on John Street, approaches the busy intersection with Queen Street in the heart of downtown. A large and exceptionally detailed work... learn more...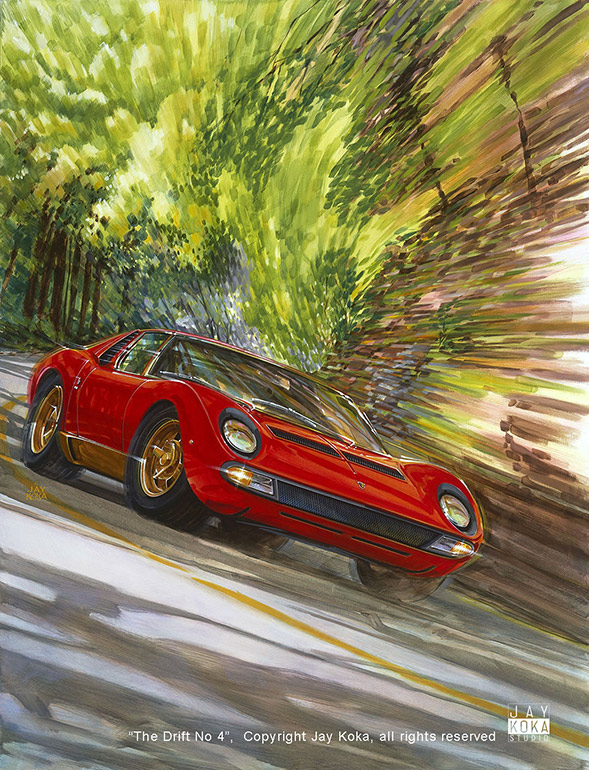 (click to enlarge)
"The Drift No4"
The Drift No 4 continues a series of paintings started in 2000. Featuring the Lamborghini Miura, this is the poster/event art for the 2018 Cobble Beach Concours d'Elegance held September 2018, Ontario, Canada.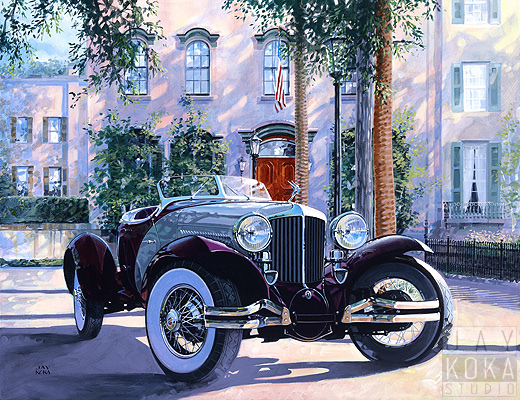 (click to enlarge)
"Savannah No5"
The magnificent 1931 Cord L-29 LaGrande Speedster is presented in one of Savannah's historic squares. 5th in a series of Savannah-based paintings, awarded the coveted Peter Helck Award at the 2012 Automotive Fine Arts Society premiere exhibition at the Pebble Beach Concours d'Elegance. ...
30:30 The Book
2016 was the 30th anniversary of the founding of the Studio. We published a beautiful 96 page volume to celebrate. The standard and limited edition is sold out, a second edition is planned...learn more...
Jay Koka Studio 10
Published in 1994 to mark Studio's 10th anniversary. Extremely limited availabilty of a few signed and numbered copies from an edition of 200. Hardcover, cloth-bound with matching hard slip cover. Can be personalized.
About...
Marking it's 30th year in 2016, the Studio and multi-award winning artist Jay Koka are in the premiere ranks of the automotive fine art...